RECOVERY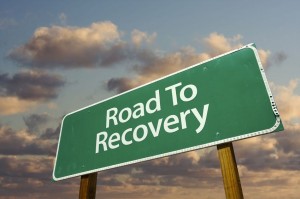 Recovery from mobbing can be slow and complicated. Anyone who has not experienced mobbing may find it difficult to understand and empathize with victims of mobbing. Mobbing is not acute trauma like being in a car accident or witnessing a shooting. It is chronic trauma that occurs over a period of time involving personal attacks that are a threat to personal integrity. The targeted person is trapped in an environment that they can't easily leave without risking significant changes resulting in adverse life consequences like loss of income, having to move, spouse having to find a new job, etc. If they remain it is almost guaranteed that the abusive attacks will continue. This form of chronic trauma results in the most severe trauma symptoms. (See Impact of Bullying)
RECOVERY
The old adage 'Time heals all wounds' does NOT apply with mobbing. The passage of time without other supports is unlikely to heal the wounds inflicted by mobbing. It can take many months and sometimes years to fully recover. There is no one size fits all prescription for recovery. There are factors which influence the recovery path. They include the severity of the mobbing experience, the degree of humiliation and ostracism experienced; history of previous trauma and abuse; how the targeted person views the experience and its effects on their future; and personal traits and level of support they have.
Find someone who understands mobbing who can affirm what you have experienced and be a support and advocate through the recovery process. (Contact us if you don't know anyone you can talk with)
Seek a qualified counselor. (Someone who is familiar with all the dynamics of mobbing. If there is no one familiar with mobbing find a counselor who is familiar with domestic violence or trauma.)
See your primary health care provider for a complete physical.
Document, document, document. Gather information and correspondence including notes, voice messages, emails, or any other documents related to the mobbing. Log or journal in detail as much as you can remember about the events.
Make self-care a priority. Get plenty of rest and exercise, eat a healthy diet and engage in spiritual disciplines. (You may want to come to one of our Renewing the Flame retreats or seminars to focus on a self-care plan – see thriveministries.ca for more info)
Review options for staying or leaving the church
Accept and grieve the losses that have occurred. (people leaving the church, loss of friends, tarnished reputation, etc) Lamenting is a major part of the recovery process. The more thoroughly you grieve the losses, the better your recovery.
Reaffirm the values that you wish to live by. (We offer Living out of Your True Self seminars that includes this)
Spiritual work. Reassess your view of God and your relationship with him. Take part in an inner healing group or one on one counseling that helps you address the losses. (We offer Unfinished Business groups for this purpose)
Engage in meaningful life activities outside of ministry. Develop new interests and skills. Establish new trusting relationships and relearn how to 'play' and have fun.
Support for family members including education about mobbing and its effects and good self-care.
[1] Adapted from material presented in Mobbing: Causes, Consequences and Solutions. 2012 Duffy &Sperry